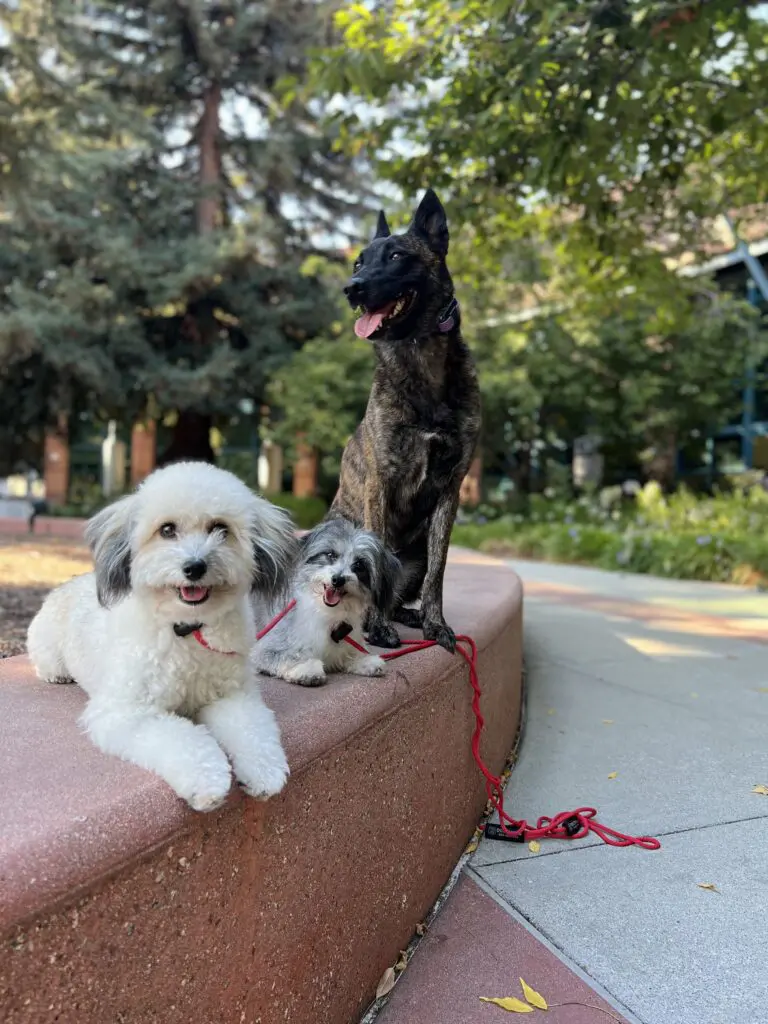 We offer Paw Camp, Mondays-Fridays, 8AM-6PM for dogs who have been through a training package or a Board and Train with us! Paw Camp utilizes skills that have been taught to your dog in privates or their Board and Train in real life settings (the mall, downtown, etc).
Paw Camp is perfect for:
reactive dogs
dogs in any stage of their training
dogs who need extra stimulation during the work week
or, really, any dog!
Please see the table below for pricing.  Paw Camp days can be purchased with or without 30 minute follow up sessions. Follow up sessions are helpful for us to go over what we have been working on with your dog, help us answer your questions, give you hand-on help, feedback, and critique so the training can follow through at home to help your dog become a happy and healthy member of the family.
OUR CURRENT SCHEDULE: 
MUNDANE MONDAYS: Like a lazy Sunday, but Mondays. Place work and treadmill for passive training and brushing up on the basics. Sometimes a light day to start off is what your dog needs to be prepped for a stimulating week.
TACTFUL TUESDAYS: Is your dog struggling to relax during a lunch date? We take your dog out to a public space (like a cafe or restaurant!) where we practice duration and obedience in public. We do the work, so when you go out, you and your dog can enjoy a peaceful trip!
WINDOW SHOPPING WEDNESDAYS: Get in loser, we're going shopping. We take your dog to Stanford Shopping Center to take in all the sights and smells. This way, you can happily take your dog to the Apple Store while you pick up the latest iPhone, without worrying about leash pulling.
TRAIL THURSDAYS: Are you an avid hiker or do you love being around nature? We take your dog out on the trail to practice manners around distractions such as small critters, woodsy smells, and other dogs. 
FIELD TRIP FRIDAYS: In true Ms. Frizzle fashion, we take your dogs out on a field trip! This can be anywhere from Home Depot to the beach and everything in between. You never know where we go on Fridays, so don't miss out. 
*Dogs need to be APPROVED before attending field trips. All of these field trips are subject to change day of in accordance to scheduling or weather.*
| | | | | |
| --- | --- | --- | --- | --- |
| TIER 1 (Private clients) | $90 | $430 | $850 | $1600 |
| TIER 2 (Private clients w/ sessions) | N/A | $460 (w/ one follow up session) | $910 (w/ two follow up sessions) | $1720 (w/ four follow up sessions) |
| TIER 3 (Board & Train clients) | $70 | $330 | $650 | $1200 |
| TIER 4 (Board & Train Clients w/ sessions) | N/A | $350 (w/ one follow up session) | $690 (w/ two follow up sessions) | $1280 (w/ four follow up sessions) |